Sumter County Schools November 2021 Board Recognition Program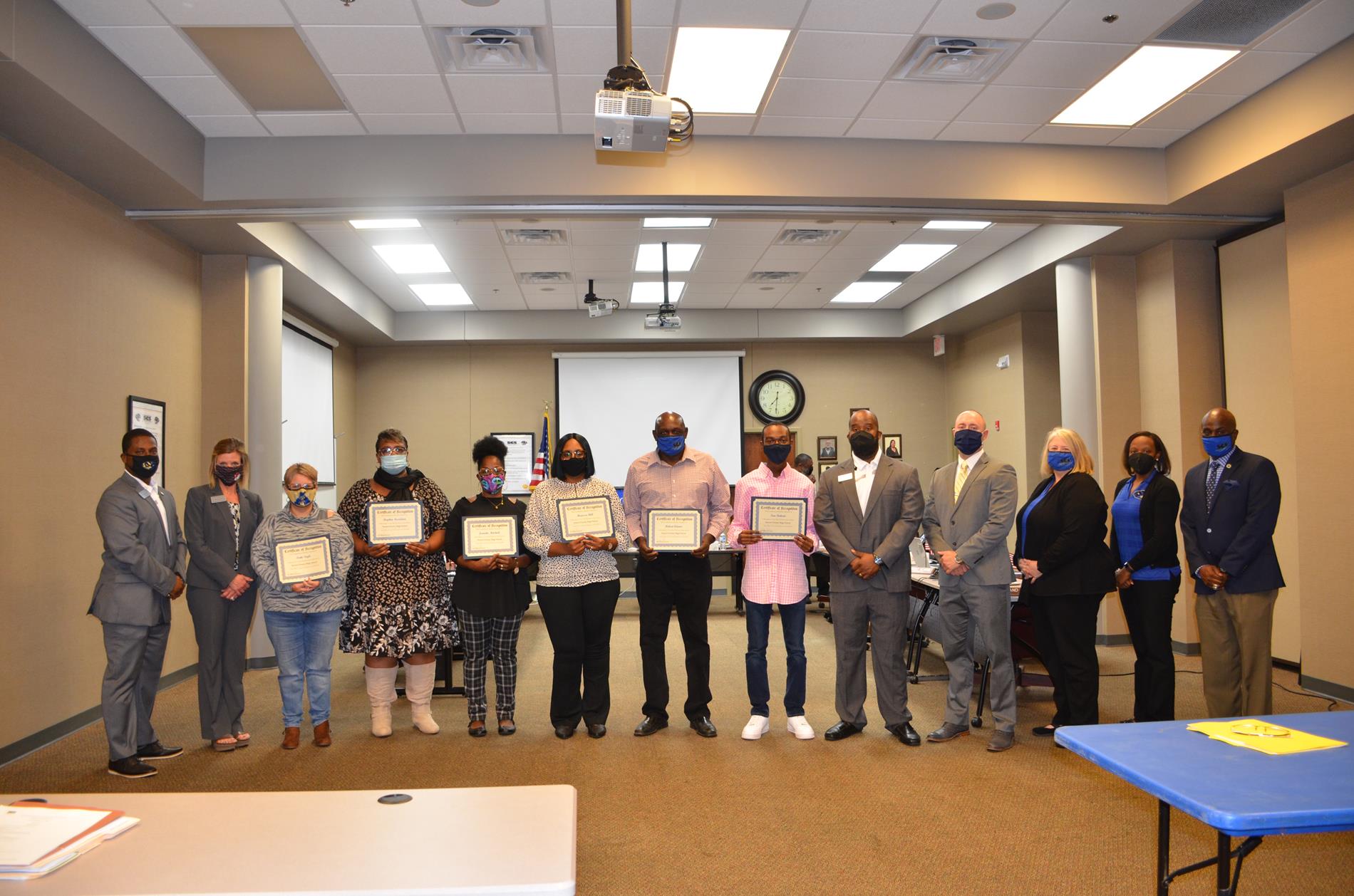 ---
Sumter County Schools November 2021 Board Recognition Program
Mr. Walter Knighton, Superintendent of Sumter County Schools, is proud to announce the November 2021 Board Recognition Program honorees from Sumter County High School.
They are: Marissa Hill, Paraprofessional; Jeanette Mitchell, Support Staff; Daphne Hamilton, Teacher; Ian Roberts, Student; Patti Ingle, Parent Volunteer; and Robert Adams, Custodian. Following the recognition and photos, the board and audience were invited to congratulate those honored.
"Teachers and Parents in Support of Students" is a program that recognizes a school each month. This month, Mr. Kimothy Hadley, principal of Sumter County High School choose to recognize a parent volunteer, a student, a teacher, a paraprofessional, a support staff and a custodian for the board recognition program.
Marrisa Hill-Support Staff
Ms. Marissa Hill loves to work with her students and it is evident to all those who walk in her room. She is continuously encouraging her students not just as a classroom coach but as a mentor. She selflessly works to ensure that students know that high expectations are a must, as a student and as a person. It is very common to see her tutoring individual students, especially struggling readers. Her love for her students is seen on her face each day. She seeks out ways to help the students who seem to be struggling and wants to do all she can to see them succeed. Ms. Hill shares a love of learning with her students and is an asset to the classroom. Our ElevateK12 representative, Nikko Nelson, states, "Ms. Hill is one of the sweetest people we have ever met at Elevate! She's extremely steadfast in her tasks and is an overall joy to work with. Her willingness to go the extra mile will is noticed!"
Jeanette Mitchell- Support Staff
Ms. Jeanette Mitchell's impact on the Elevate 12 classroom cannot go unnoticed. As the classroom coach, she has taken pride in her role and has helped define what dedication looks like. She has taken pride in getting involved with the curriculum and is excited to read along with the students. More importantly, she invests in the children. She continuously encourages them to do their best and to not let setbacks keep them from moving forward. Ms. Mitchell has developed a trusting relationships with her students. Her positivity is contagious and it shows that she loves what she does each day. Nikko Nelson, ElevateK12 representative, states, "Ms. Mitchell is a dedicated and forward thinking individual who Elevate has had the pleasure of working with this semester. Her uplifting attitude, love and support for students shines through in her commitment to bringing the program to its fullest potential."
Brittany Justice, IT with ElevateK12 shares this about Ms. Mitchell and Ms. Hill: "These two women are always so kind to me and the children. They are always on top of everything and keep the children on task. They are definitely amongst my favorite to work with! It is such a blessing to see how hard they work to ensure that each child receives a positive educational experience. The children at Sumter County High School are truly blessed to have Ms. Hill and Ms. Mitchell. I would also like to thank them for simply being themselves and striving to make an impact in the students' lives."
Daphne Hamilton-Teacher
Mrs. Hamilton is being recognized tonight for her relentless commitment to our students. She works diligently to prepare engaging lessons for her students and scaffolds lessons to ensure students understand the concepts. She inspires students of all abilities to learn math and helps them to build confidence in their math skills. She also does a great job of empowering her students by assigning roles and showing them that they are a valued member of the classroom. You can often see students at the board working on problems, helping each other, and leading the lessons.
Mrs. Hamilton also works hard to keep her virtual students engaged. She works with them in small groups, teaches one-on-one when necessary, provides video resources for each task or topic, and elicits their participation during instruction. She uses a variety of resources to ensure that she can see their work and provide feedback. She is constantly learning more about technology and trying different programs to ensure that all of her students are learning.
Ms. Barbara Jackson said, "Mrs. Dalphine, I know I have said this before, but I can't say it enough. The help you're giving Jordon one-on-one is profitable and wonderful. He was so excited today that he was able, with your help, to do the work. You have gone above and beyond to help him; I appreciate it from the bottom of my heart. Thank you so much. You are our Teacher of the Year! #1
Ian Roberts- 12th Grade Student
Ian Roberts is a senior at SCHS and is the Student Government Association class president. Most recently, Mr. Richard Woods, State School Superintendent, selected Ian to serve on the State School Superintendent's Student Advisory council. Ian had his first meeting in October and he shared with me that the experience was outstanding.
Thomas Prater, Economics teacher wrote, "Ian is a role model for my other students! He leads the way when it comes to excellence in Economics. Ian has a bright future, and I look forward to seeing him accomplish his goals for the future, to be a Civil Rights Lawyer.
Alicia Green, CTAE Business Marketing teacher wrote, "Ian is a young man of great character, discipline, and integrity. I am excited to see what the future holds for him. Definitely a leader in the making."
Mrs. Sumner, Business & Technology Instructor, wrote, "Ian is an excellent student and a joy to have in my class. He works hard for the grades he earns. He is respectful of other students and his teachers. He is self-driven and works hard to accomplish the goals he has set forth for himself. I am so proud of Ian and look forward to watching him grow and succeed in life."
Cassandra Tedford, Mythology teacher, wrote, "Ian is doing a fantastic job in Mythology. His summaries are in depth and the thought-based questions reveal that he is truly an amazing young man and a great addition to any class."
Dr. Ndaayezwi, Calculus gifted teacher, wrote, "I have known Ian Roberts for the past three years in my capacity as a math teacher, coach as well as his mentor. Ian has undisputed self-discipline, whatever he does requires minimum supervision, and he is self-driven. He is diligent and is always determined towards his studies and this is evident by his attention to details. All his work in mathematics can be shown to anybody and they will be able to understand the concepts addressed. He is always punctual to class; I joke about him as a manager who has to be at work before everyone else arrives. When it comes to helping others he is an example of a selfless individual, which is evidenced that sometimes he helps others and fails to finish his own work on time. Above all Ian is a team player, courteous and responsible individual whom everyone who knows him aspires to be a neighbor, friend and any form of associations."
Patti Ingle –Parent
Hadley stated, "On behalf of myself, Frederick Mohl, and our entire SkillsUSA organization I would like to express our sincere appreciation to Mrs. Patti Ingle. Thank you for all the hard work and diligent effort that you have put forth to make our organization successful. Your dedication, persistent hard work and desire to help others is unparalleled. SkillsUSA and I would like to thank you again for your services over the years. We are grateful to have you as one of our Alumni members and value your contributions to the organization. We look forward to continuing to work with you and growing our relationship with you in the years to come. Thank you."
Robert Adams - Custodian
"Mr. Robert Adams is a native of Dooly County. He has been a very dedicated and hard worker at Sumter County Schools for the last 14 years. Mr. Adams is known to assemble any item just by looking at a picture. He is also well known for removing unwanted guests from the old building such as snakes, bats, and frogs, none of which were harmed. When Mr. Adams is not working he LOVES to fish. In the fall, he can be found watching his favorite team the Dallas Cowboys. He is married to Mrs. Sheila and they have 4 children."
Sumter County High School would like to say thank you to these honorees for their dedication and service to the students, faculty and staff.
Pictured left to right: Kimothy Hadley, Principal of Sumter County High School; Dr. Marnie Dutcher, SCHS Assistant Principal; Patti Ingle, Parent Volunteer; Daphne Hamilton, Teacher; Jeanette Mitchell, Support Staff; Marissa Hill, Paraprofessional; Robert Adams, Custodian; Ian Roberts, Student; Martin Mitchell, SCHS Assistant Principal; Cody Moncrief, SCHS Assistant Principal; Cynthia DeMott, ELA Instructional Coach; Phoenecia Cummings, Math Instructional Coach; and Superintendent Walter Knighton,