Sumter County School Recognizes Retirees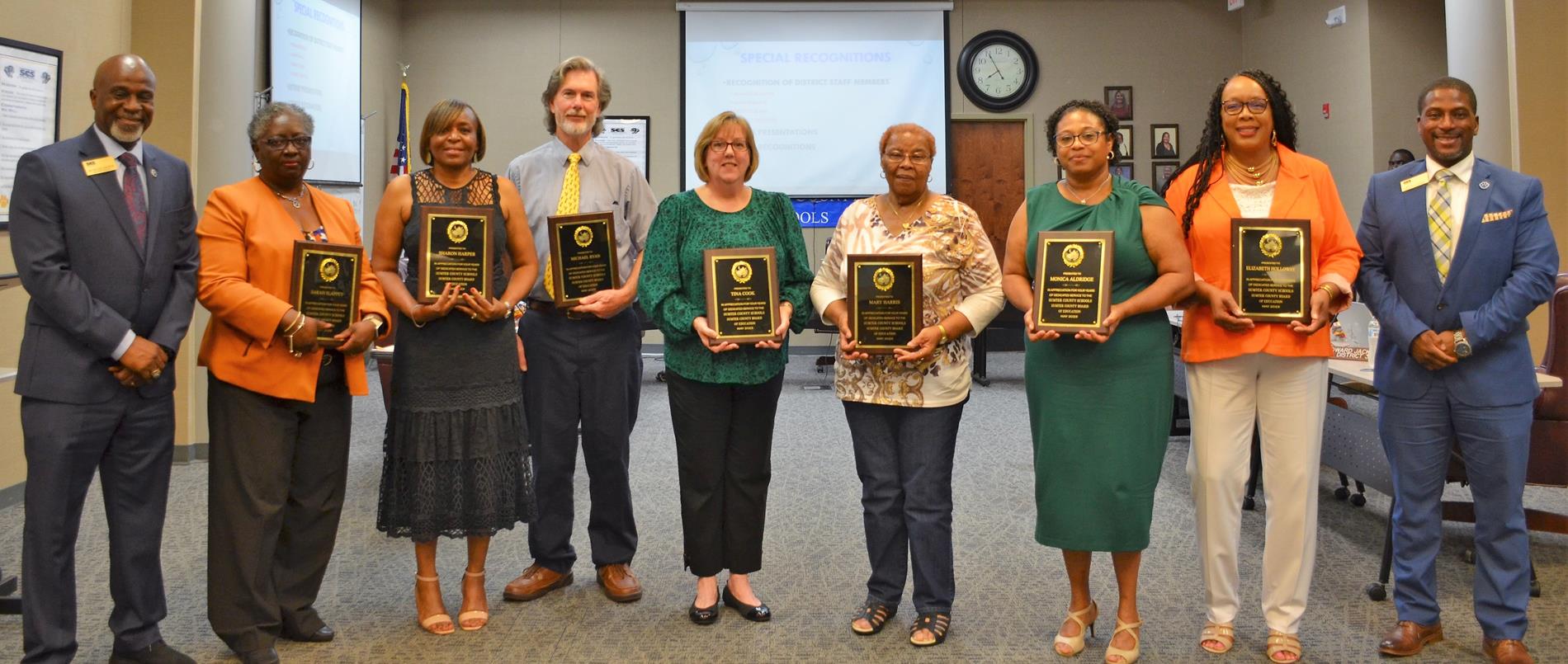 ---
Sumter County School Recognizes Retirees
Sumter County Schools Superintendent Walter Knighton and the Sumter County Board of Education recognized the individuals retiring from the system at the end of the 2022 - 2023 school term during the regular May monthly meeting.
Mary Harris, Transportation
Sarah Slappey, Nutrition
Sharon Harper, SCPS
Michael Ryan, SCPS
Monica Aldridge, SCES
Tina Cook, SCES
Elizabeth Holloway, SCES
Krista Hudson - SCIS
Superintendent Knighton stated," At this time we would like to recognize some special individuals across our district for all that they do. It takes a lot for individuals to dedicate so much of their lives to ensure that we here at Sumter County Schools provide the best education for our students. So as we close out this particular year and they close out another chapter in their lives, it is always important for us to recognize and make sure that we are giving them their due diligence for all that they have sacrificed here in Sumter County. It is a bittersweet time for us to recognize our special employees across our district, our retirees. I want to say from the bottom of my heart, thank you for all that you have contributed to Sumter County Schools, it has not gone unnoticed."
Mrs. Helen Rickets, Director of Human Resources congratulated the retirees and stated that they have served over 221 combined years in education. Ms. Sue Hite, president of Sumter County Retired Educators along with Mrs. Brenda Jennings and Dr. Lillie Taylor, presented the retirees with a "goodie bag" that included information about joining the Georgia Retired Educators Association and invited them to join the Sumter County Retired Educators Association.
The individuals were recognized by their respective supervisors/administrators and presented with a plaque and tokens of appreciation.
In conclusion, Superintendent Knighton addressed the retirees, "Sumter County is a better place because of individuals like you. No greater reward is there than the time of service you have put in to ensure that the students you served had the best. Thank you all for your service, and for all that you have done, we are forever indebted to you for the sacrifices you have given. Sumter County will be a better place because of all the lives you have touched."
Pictured from left to right: Superintendent Walter Knighton, Sarah Slappey, Sharon Harper, Michael Ryan, Tina Cook, Mary Harris, Monica Aldridge, Elizabeth Holloway, and Associate Superintendent Kimothy Hadley