Sumter County Schools March 2022 Board Recognition Program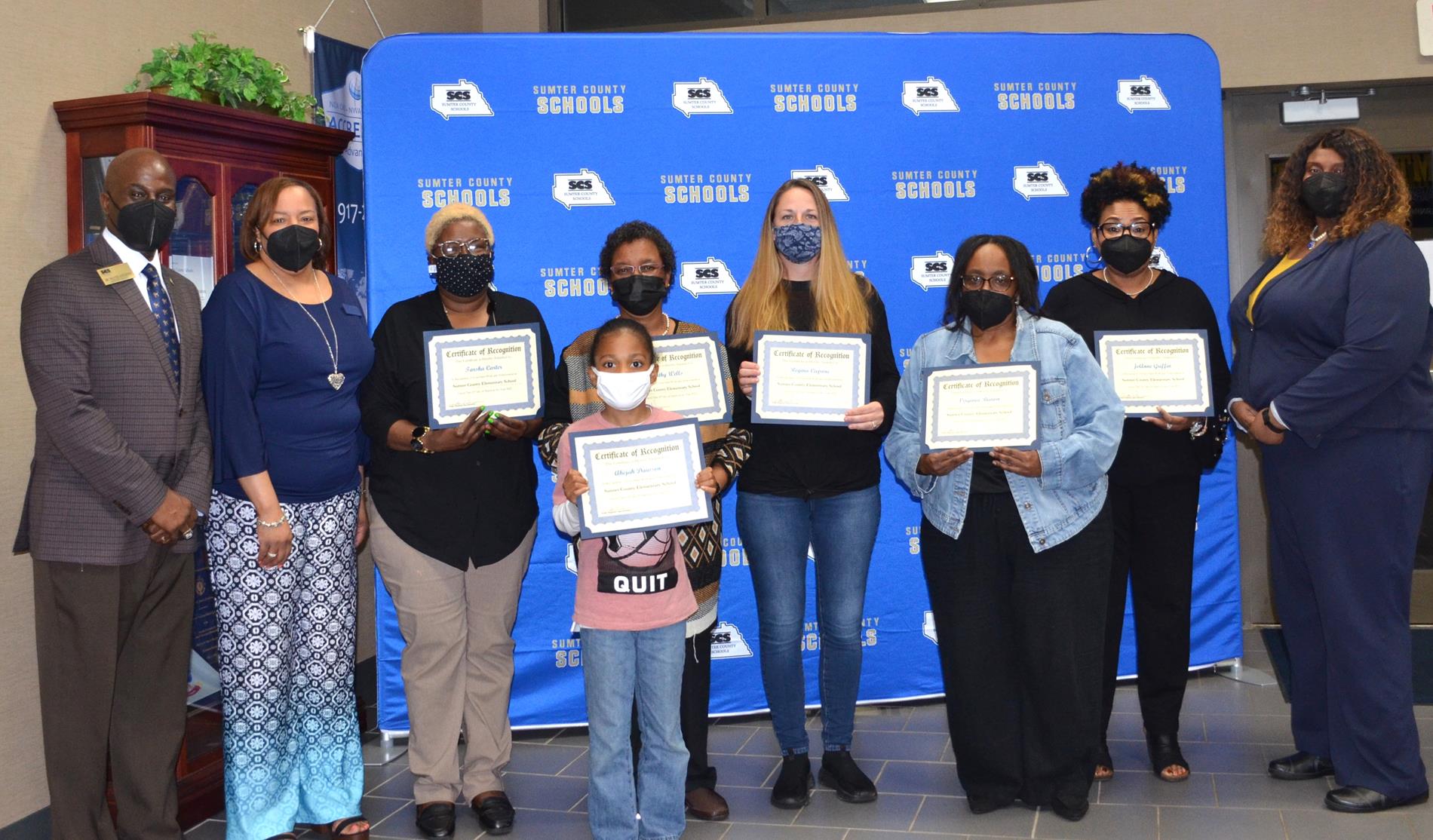 ---
Sumter County Schools March 2022 Board Recognition Program
Mr. Walter Knighton, Superintendent of Sumter County Schools, is proud to announce the March 2022 "Teachers and Parents in Support of Students" Board Recognition Program honorees from Sumter County Elementary School. Dr. Sharon Tullis, principal chose to recognize the following: Student--Ahijah Dawson; Parent Volunteer--Regina Capone; Custodian--Cathy Wells; Teacher--Tarsha Carter; Paraprofessional--Virginia Brown; and Office--JoAnne Griffin. Following the recognition and photos, the board and audience were invited to congratulate those honored.
Sumter County Elementary School's All STARs Student, Ahijah Dawson, is the son of Robert and Raquel Dawson. He is in the third grade. He has three brothers that he loves. He enjoys playing with his brothers, being outside, painting, doing paper crafts, drawing, and working out. Ahijah also enjoys multiplying, learning new words/things, and eating pizzas and sandwiches.
Mrs. Kristal Minter, one of Ahijah's teachers, stated:
Ahijah is a very sweet and respectful student. He loves to volunteer in class. He demonstrates an eagerness to learn and is very enthused about meeting his Accelerated Reader goal each nine weeks. I'm so proud of all the diligence shown daily when completing his assignments. Way to go Ahijah! I'm so proud of you!
Mrs. Ashleigh Wadsworth, another one of Ahijah's teachers, shared:
Ahijah is a joy to teach. He is eager to learn and works hard every day. He has a positive attitude that is contagious. You can't help but smile when you talk to him. I am so proud of him, and I am thankful that he is in my reading class.
Dr. Tullis stated, "As his principal, I have witnessed his enthusiasm for learning during our virtual year to being back-in-the-building. His excitement excites me! He has shown so much growth, and I can only imagine what the future holds for him as he continues to shine."
Again, let me introduce you, as told to me by Ahijah, to a future basketball player and firefighter, Sumter County Elementary School's All STARs Student. Congratulations, Ahijah Dawson!
Sumter County Elementary School's All STARs Parent, Regina Capone, is from Florida, and she moved to Leslie, GA from the D.C. area. She is married to Corey Capone, and they have four children which includes their youngest child, Cade, who is in the second grade. The Capones also have three grandchildren.
Mrs. Capone was in the U.S. Air Force. She was a Federal Law Enforcement Officer. She has a Bachelor's degree in Business Management and currently works for the Department of Homeland Security.
When Mrs. Capone isn't busy with Cade, her grandchildren, and work, she is checking with Cade's teachers to see what she can do to show her appreciation. According to Mrs. Patricia Reddell, Cade's homeroom teacher, Mrs. Capone has donated treats, cleaning supplies, and headphones to the class. Mrs. Reddell also shared that Mrs. Capone always addresses concerns with respect and works well with them to ensure that Cade is doing his best while also being challenged.
It is our pleasure to recognize you, Regina Capone, as our All STARs Parent! Keep up the awesome work!
Sumter County Elementary School's All STARs Custodian, Cathy Wells, is married to William Wells. She has three children, two grandchildren, and one great-grandchild. She enjoys reading, doing crossword puzzles, cooking, eating, and fishing, at times. Mrs. Wells loves being around her family and friends.
She has worked for the Sumter County School District for 15 years and shared that she enjoys working with students and teachers to keep Sumter County Elementary School (SCES) clean and free of germs. In the words of Mrs. Wells, "I have tried to do the job that the Lord has enabled me to do."
Affectionately known as "Miss Ann" at SCES, Miss Ann has done a fantastic job with serving as the Lead Custodian. She makes sure that the work gets done when it needs to be done.
We appreciate you and know that you will always have your radio on when a radio check is done! It is with pleasure that we congratulate Cathy Wells as our All STARs Custodian!
Sumter County Elementary School's All STARs Teacher, Tarsha Carter, graduated from Sumter County Comprehensive High School in 1992. She attended Georgia Southwestern State University graduating in 2000 with her Bachelors of Science, in 2005 with her Master's, and in 2008 with her Specialist degree. She has been an educator for 22 years. While with the Sumter County School District, she has taught second and third grades. She currently teaches second grade and serves as the Team Leader for the English Language Arts Department.
Miss Carter loves finding new ways to share her excitement for learning with her students. Outside of her passion for education, she enjoys traveling, listening to music, watching game shows, and spending time with her two daughters.
Her partner teachers, Jonetta Williams and Dashia Lyles, add:
We enjoy being Miss Carter's partner teachers this school year. She is a compassionate, giving, funny, yet professional individual. She works extremely hard to accomplish all of her obligations as an educator, even after hours. Due to Miss Carter's work ethic, she is always ahead of the game and working on her next task. We cannot think of anyone more deserving of such recognition. We love you Miss Carter!
She is truly an educator that cares for her students. You can rest assure that she's going to do her best to make sure that her students are learning, enjoying learning, and know that they are learning! It is the dedication shown and the willingness to take the reins to do what she can for students and adults that makes her an All STARs Teacher! With great pleasure, we congratulate, Tarsha Carter!
Sumter County Elementary School's All STARs Paraprofessional, Virginia Brown, graduated from the Sumter County School System. She has worked for the Sumter County School District for 18 years starting at the primary school and then moving to Sumter County Elementary School. She received her Bachelor of Science in Psychology from Walden University in 2016.
Ms. Brown stated that she has been fortunate to work under great leadership throughout her years and that she loves working with students and faculty/staff members; enjoys putting smiles on everyone's faces; and finding the positive in all situations. It is her belief that if everyone would work together, no matter what is needed, this whole world would be a better place.
Ms. Brown can be counted on to hold down the office early in the mornings, as she gets there before everyone else does. From answering the phone to greeting all who enter the office and lobby, she is sure to put a smile on their face or a laugh in the air! You know when she's there, and you know when she's not! She helps when and where she's needed without any complaints, and to know her, is to love her.
It is with genuine gratitude that we recognize our All STARs Paraprofessional, Virginia Brown! Thank you for ALL that you do!
Sumter County Elementary School's All STARs Staff Member, Joanne Griffin, was born and raised in Sumter County by her wonderful parents, the late Johnny Griffin, Sr. and her angelic mother, Vivian P. Griffin. She has one brother, a former employee of the Sumter County School District, Johnny Griffin, Jr. She's been blessed with three wonderful children and 10 grandchildren.
Miss Griffin graduated from Americus High School and has been employed with the Sumter County School District for 23 years. She stated, "Each day is a blessing to be BLESSED with knowledge to encourage some and to be a role model to others. I wouldn't have it any other way."
If you should call Sumter County Elementary School and hear a soft-spoken voice greeting you on the other end of the phone, it could possibly be Miss Griffin. Whether answering or making phone calls, handling transportation changes, helping at the nurse's station, or arranging for classes to be covered, she's calm and collected with it all.
On the frontline of the school, Miss Griffin welcomes visitors, one and all. Thank you, Joanne Griffin, for being our All STARs Staff Member!
Pictured front row Ahijah Dawson, Student
Back row left to right: Mr. Walter Knighton, SCS Superintendent; Dr. Sharon Tullis, SCES Principal; Tarsha Carter, Teacher; Cathy Wells, Custodian; Regina Capone, Parent Volunteer; Virginia Brown, Paraprofessional; JoAnne Griffin, Office and Teira Wallace, SCES Assistant Principal