October BOE Recognition Program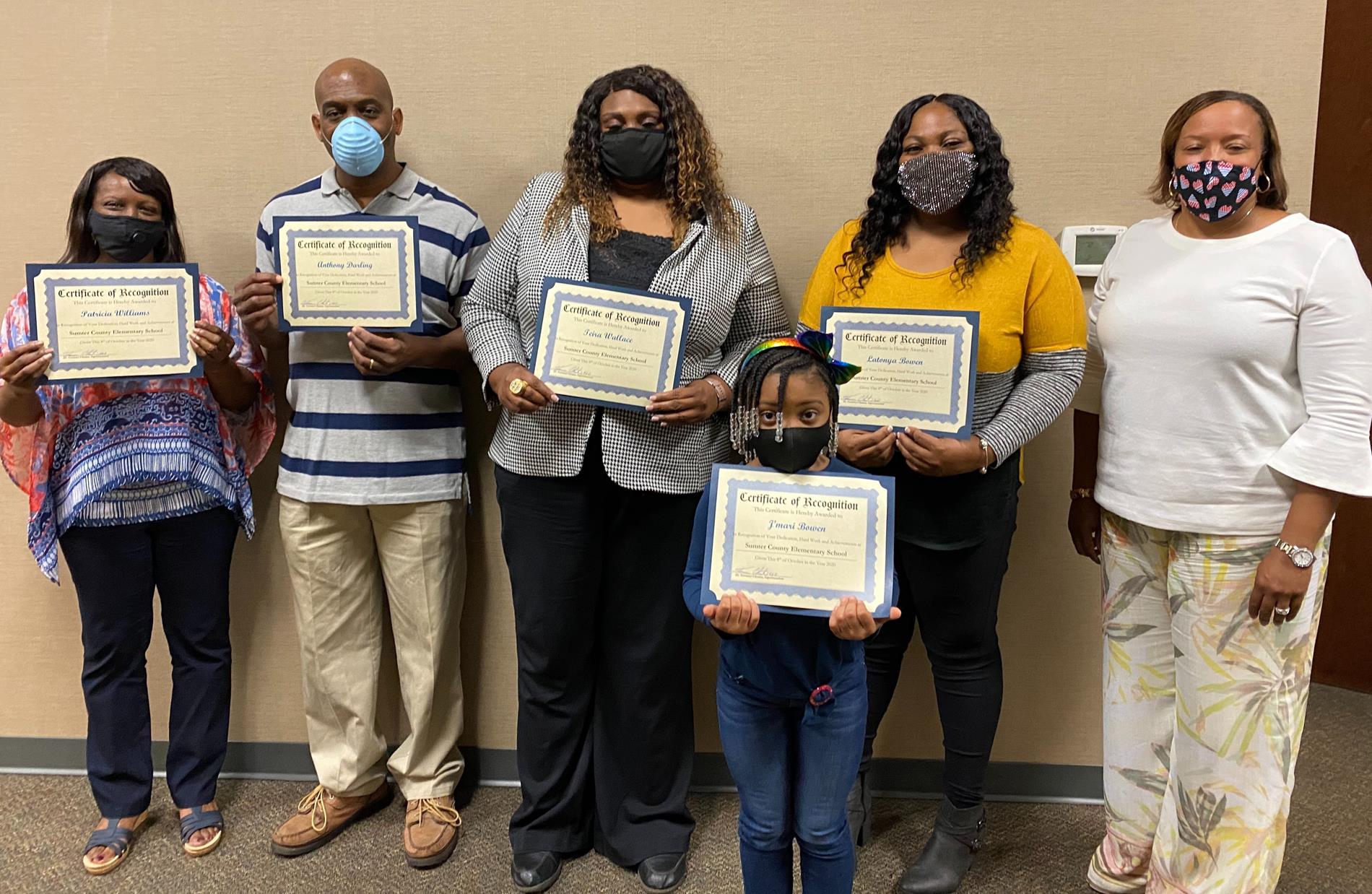 ---
Dr. Torrance Choates continues his "Teachers and Parents in Support of Students" recognition program at the monthly Board of Education Meetings. This month, Sumter County Elementary School's principal, Dr. Sharon Tullis recognized J'mari Bowen (student), Miss Teira LaShay Wallace (teacher), Ms. Patricia Williams (paraprofessional), Miss Latonya Bowen (parent) and Mr. Anthony Darling, Sr. (custodian)
Sumter County Elementary School's All STARs Student, J'mari Bowen, is the daughter of Miss Latonya Bowen. She has one sister, who is currently a senior at the Americus Sumter High School. According to her mom, J'mari is an outspoken fashionista who loves dancing, gymnastics, and playing with dolls!
According to Mrs. Becky Schabeck, one of J'mari's teachers:
J'mari always logs in and is ready to participate in lessons. She keeps me posted when I try to squeeze in an extra five minutes of instruction by showing me her phone with alarms set to let me know my time is up! She completes all of her virtual work on time.
J'mari already sounds like a teacher in the making; therefore, we encourage you to keep up the great work habits and always strive to be and do your best! It is with great enthusiasm that we recognize our All STARs Student, J'mari Bowen!
Sumter County Elementary School's All STARs Faculty Member, Miss Teira LaShay Wallace, is a native of Sumter County. She is the daughter of Dr. E.J. and Mrs. Selena Wallace, a retired educator for Sumter County Schools. She has one sister, Brittany Wallace, who is a school counselor in Muscogee County and an aunt, Dr. Sherralyn Stone, who is an educator at Sumter County Primary School.
Miss Wallace is a 1998 Honor graduate of Sumter County Comprehensive High School. After high school she attended and earned a Bachelor's degree from Wesleyan College in Macon, GA. She later obtained both a Master's and a Specialist degree from Georgia Southwestern State University in Early Childhood Education with a 4.0 GPA both times. She recently completed her coursework for the Tier 1 Administration degree from Columbus State University.
She began her teaching career in 2003 in Webster County. In 2005, she started working at Cherokee Elementary School until it closed in 2012. She then worked at Sumter County Primary and transitioned from there to Sumter County Elementary in 2016. She has taught pre-k, kindergarten, first, and second grades. She found a deep love and passion for educating second graders and decided to remain in 2nd grade until 2018 when she began her new role as an Academic Coach at Sumter County Elementary.
In addition to being an Academic Coach, Miss Wallace is an assistant basketball coach for the Americus-Sumter Lady Panthers. She has been with the team for 14 years. During her tenure with the team, the Lady Panthers have won two 4A State Championships, made numerous state playoff appearances, and helped propel several female athletes to the next level with college and junior college opportunities.
She has been a devoted educator for over 17 years and is very passionate about teaching and learning. She believes teaching is a divine calling and there is no greater joy than seeing a child's success. One of her favorite quotes is, "Education is the most powerful weapon which you can use to change the world" by Nelson Mandela.
Miss Wallace never misses a beat to help get things done. She takes pride in her work and does an outstanding job coaching our teachers and propelling our students. I can always count on her to put forth the extra effort with whatever she is in charge or a part of. She is a leader among her peers and a true team player!
With all of the above being said, you can see why Miss Wallace was chosen to represent SCES's Faculty! Please join me in congratulating Miss Teira LaShay Wallace!
Sumter County Elementary School's All STARs Staff Member, Ms. Patricia Williams, was born and raised in Americus, GA. She is a 1983 graduate of Americus High School. She is the mother of two beautiful daughters and grandmother of five. She has been employed with Sumter County Schools for 17 years since 2003. Her career started at Cherokee Elementary School where she was an office paraprofessional for one year. After that year, she became a registrar. When Cherokee closed in 2012, she transferred to Sumter County Elementary School and currently serves as the registrar.
Ms. Williams enjoys spending time with her family, watching her grandchildren play outside, walking around in her yard, relaxing, and watching television. She also loves to eat! Her favorite saying is, "God has got this!"
She works to keep our records straight, attendance intact, schedules inline, and teachers on top of the aforementioned tasks as well as pitching in to help as needed. Being on the frontline of the school, she is one of those welcoming faces that makes every visitor feel at home. To hear her talk with callers and visitors reassures me that she is definitely an All STARs person! Her laugh is one to love as is her personality! Thank you, Ms. Patricia Williams, for being our All STARs Staff Member!
Sumter County Elementary School's All STARs Parent, Miss Latonya Bowen, is from Americus, GA. She has two daughters, ages 17 and 8, and one 4-month-old granddaughter. She is employed at Stewart County Elementary School as a long term substitute teacher and is currently pursuing an Associate of Science in Nursing Degree.
According to Mrs. Becky Schabeck, one of Miss Bowen's daughter's teachers:
I knew she was a great supporter because I could hear her in J'mari's recorded activities teaching in the background and not just telling her the answers. Miss Bowen makes sure her daughter is in class every day and that she completes her assignments. She stays in close contact with me through Class Dojo. I appreciate Miss Bowen going the extra mile to help make the connection between virtual learning and home.
It is our pleasure to recognize you, Miss Latonya Bowen, as our All STARs Parent! Keep up the awesome work with your daughter and our All STARs student!
Sumter County Elementary School's All STARs Custodian, Mr. Anthony Darling, Sr., graduated from Macon County High School where he then began working as a custodian. After leaving Macon County to move to Americus in 2003, Mr. Darling has since worked as a custodian at Americus Sumter High School and is currently in his fifth year as a custodian at SCES.
Mr. Darling has a 13-year-old son, Anthony Darling, Jr., that attends Sumter County Middle School. Mr. Darling enjoys fishing and racing cars and motorcycles. He says that he loves what he does and that's why he's able to do his best.
On any given day at SCES, you can rest assure that the floors are going to reflect a ripple of water and cause you to wonder, "Are the floors wet?" In actuality, they are not wet; just buffed to a perfect shine, thanks to Mr. Darling!
We appreciate all of your efforts to keep our school looking good and safe! Thank you, Mr. Darling, for being an All STARs Custodian at SCES!
Pictured Left to Right:
Ms. Patricia Williams (paraprofessional), Mr. Anthony Darling, Sr. (custodian), Miss Teira LaShay Wallace (teacher), Miss Latonya Bowen (parent), J'mari Bowen (student), and Dr. Sharon Tullis, principal of Sumter County Elementary School