Sumter County Schools September 2022 Board Recognition Program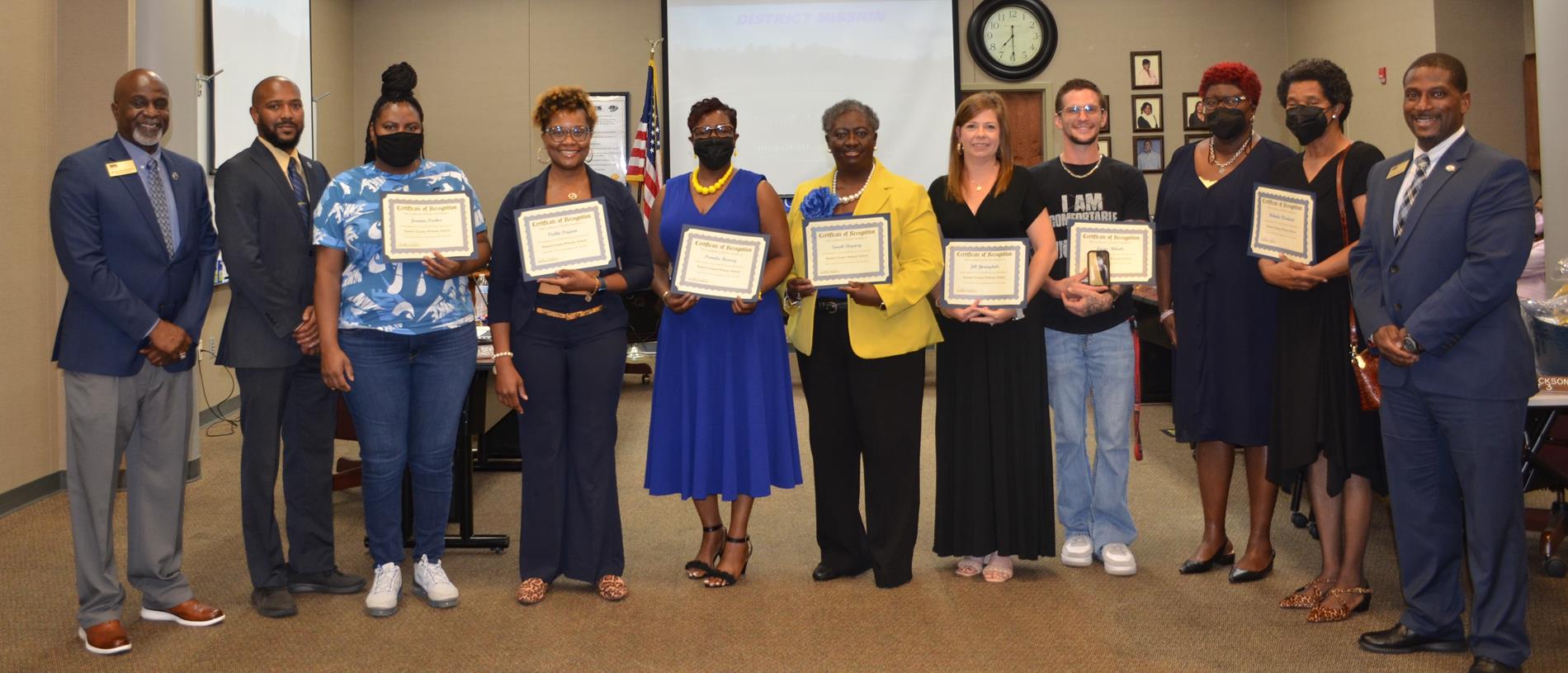 ---
Sumter County Schools September 2022 Board Recognition Program
Mr. Walter Knighton, Superintendent of Sumter County Schools, proudly announces the September 2022 "Teachers and Parents in Support of Students" Board Recognition Program honorees from Sumter County Primary School. Dr. Renee Mays, the principal and her staff, chose to recognize the following: Student – Lucas Milotte, Custodian – Ms. Joanna Parker; Nutrition Staff Member – Ms. Sarah Slappey; Support Staff – Ms. Vickki Prigeon; Parent Volunteer – Ms. Pamela Merritt Harvey; Paraprofessional – Ms. Belinder Woodard; and Teacher – Mrs. Jill Youngdale.
Dr. Mays began, "Good evening, Superintendent Mr. Knighton, Associate Superintendent Mr. Hadley, and School Board Members. I bring you greetings from the HOME of the PANTHER CUBS - Creative, Unique, Brilliant Students. We are the upcoming graduating classes of 2034, 2035, and 2036. We are pleased to introduce some exceptional Sumter County Primary CUB Family members."
Student - Mr. Lucas Milotte is a first grader at SCPS in Mrs. Mandi Saratsiotis' class. He is the son of Mr. Brian Milotte and Ms. Jamie Miller. He has one brother, Gideon (3rd grader at SCES), and three sisters -Khloe Pergola (7th grader SCMS), Solace (9th grader at SCHS), and Ida Milotte. Mrs. Saratsiotis shared that Lucas is one of the sweetest little boys! He comes in every day ready to listen and learn! He also shares fascinating facts. Lucas looks after his friends and helps whenever needed. He is a friend to everyone in his classroom. Lucas scored a distinguished level in STAR Reading Assessment and at the proficient level on the STAR Math Assessment. Lucas is off to a great start with taking Accelerated Reader (AR) tests and leading the classroom with AR points. He is an excellent student with the kindest heart and will do great things in First Grade and in life.
Custodian - Ms. Joanna Parker is the daughter of Mr. Sammie Parker and Mrs. Yvonne McDonald. She is the youngest of 7 children. Ms. Parker is a custodian for the Pre-K Hall. She enjoys keeping areas clean so that we can be safe. Ms. Parker graduated from Americus High, is a hard worker, and enjoys her job. She enjoys shopping and cooking. Her favorite places to shop are macys.com and the Coach Outlet. Ms. Parker has a wonderful collection of handbags. She is the Mother of two sons, Cortez (6th grader at SCIS) and Corde (10th grader at SCHS). She stresses the importance of education to her sons daily. Ms. Parker, thank you for cleaning and keeping us germ-free and well-sanitized.
Nutrition Staff Member - Ms. Sarah Slappey is a proud 1975 graduate of Americus High School. That was a special year because the Americus Panthers won the Georgia Football State Championship for the second year. Ms. Slappey has been with the Sumter County School System for over 16 years, where she has worked at Americus High, Staley, the Ninth Grade Academy, and Sumter County Primary School. Ms. Slappey enjoys cooking and often prepares treats for us. We were surprised by her famous pound cake and ice cream for a mid-morning snack a few days ago. She also tries out new recipes on us, but we don't mind being her taste testers. Mrs. Slappey is organized and very thorough, as noted in the cafeteria. Ms. Slappey has two daughters, Michelle and Kima, and both are graduates of the Sumter County School System. Her daughter, Michelle, is a SCIS MVP teacher. She has one granddaughter Liberty Dudley who is a 9th-grade student at Sumter County High School. She has one brother, Mr. Rick Hamilton, and one sister-law SCS Board Member Mrs. Carolyn Hamilton. Ms. Slappey serves as the president of the usher board at Mt. Olive Missionary Baptist Church.
Ms. Slappey and her team prepare over 1500 meals and 750 snacks daily over 1500 meals and 750 snacks each day. Ms. Slappey, we thank you for ensuring that the Panther Cub Family receives excellent nutritious meals.
Support Staff - Ms. Vickki Prigeon is an Americus High School graduate of 1992 and is recognized tonight as the support staff member. She is the daughter of Mr. Mac and Mrs. Vivian Grover. She and her siblings are all graduates of the Sumter County School System. Her Mother was our school nurse for several years and guess what-her sister Anita is also a nurse. She has an older brother, Jermaine, and two forever twin brothers - Courtney and Clyde. Mrs. Pigeon is married to Mr. Corey Prigeon (AHS class of 1993). They are the parents of four children - Seliah, Jordan, Marley (9th grader at Sumter County High), and Brooklyn (7th grader at Sumter County Middle). Nurse Prigeon is a LIFESAVER at SCPS. She is the dentist (I think she knows the tooth fairy personally) and a surgeon because she performs minor surgery after playground incidents. She also educates the faculty and staff on health concerns and shares medical updates. On a serious note, Mrs. Prigeon has been instrumental at SCPS during the COVID-19 Pandemic. She tracked medical cases, kept parents and teachers abreast of the next steps, and followed up with students/families in quarantine. Nurse Prigeon thank you for all the wonderful things you do at SCPS. We know that you are an RN. In the medical world, that means Registered Nurse. However, the Panther Cubs informed us last year that RN meant "Real Nurse." So a heartfelt thank you to the REAL NURSE of SCPS.
Parent Volunteer - Ms. Pamela Merritt Harvey is the daughter of Johnny Merritt and Charlie Mae Colson. She is the Mother of two sons, Kierston (Americus-High Graduate) and Kaylon Harvey (11th grader at SCHS). Ms. Harvey loves to learn. She has Associate's, Bachelor's, Master and Specialist degrees. She is working on another Specialist degree in Secondary Education at the University of West Georgia. On a personal note, Ms. Harvey was my son's teacher last year, and I want to thank you for your professionalism, positive demeanor, and high expectations for his class.
She is a member of Whole Truth International Ministries in Americus, Ga. She has a true God-given passion for children and wants to bring them to the FULL knowledge of their potential. She often speaks for the ones that feel their voice cannot be heard. Last year, Ms. Harvey contacted me and asked if we had any students that needed a mentor. She told me about her organization, "Matters of My Heart." Ms. Harvey came to SCPS during her planning time to meet with a group of students. She bought them treats (baked goods from her son), listened to their concerns, and checked on them periodically. I am pleased to say that this year, she will continue with that core group of students and even plans to work with their parents. Ms. Harvey, on behalf of the Sumter County Primary CUBS, we thank you for thinking about us and volunteering your time and resources to our students.
Paraprofessional - Ms. Belinder Woodard is the nominee for the SCPS Paraprofessional. Mrs. Woodard is one of a kind and has such a pleasant and humble spirit. She works continuously and is always on task. The faculty and staff love her because of her work ethic. Ms. Woodard rarely misses work and is never late. Ms. Woodard is a native of Smithville and a graduate of Lee County High School. She has one son, Eddie Black, Jr., and four grandchildren - Erin (9th grader at SCHS), Eddie III "Trey" (8th grader at SCMS), and Ethan and Ava. Ms. Woodard attends Kingdom Hall, enjoys shopping for handbags and loves THRIFT Shopping. A friend said she could go into any thrift shop and find all their designer items. Ms. Woodard stands out to us because she often says thank you to Mr. Boges and me. I asked her why she THANKED us each time we thanked her –She said, "I am thankful that I get a chance to come to this school and work every day. I am THANKFUL for my job." Ms. Woodard, please note that we thank YOU for being YOU and a part of SCPS.
We have one remaining representative. You will often find our faculty representative on the move throughout the school. SCPS's teacher honoree is Mrs. Jill Youngdale. She is a superstar in troubleshooting technology issues, distributing Chromebooks, managing hundreds of books checked out of the library (daily), and making students "Movie Stars" for the Georgia Movie Academy. She has been instrumental in helping our students win awards at the Georgia Movie Academy. Mrs. Youngdale is the best at making picture books come alive through animation when reading aloud. She also is a fantastic Accelerated Reading Chairman. This year our theme is the "BEST SCHOOL on EARTH." I cannot wait to see what she has planned for our Panther CUBS.
Dr. Mays stated that they met over 20 years ago when she began her teaching career as a first-grade teacher in Sumter County. She was in the classroom for nine years and has been a Media Specialist for 12 years. She received her Bachelor's and Master's degrees from Georgia Southwestern State University. She graduated from Troy University with a Specialist degree and obtained her Media Specialist degree from Georgia College in Milledgeville.
She is the daughter of Dorothy and Loveard McMichael (both former educators). She has one brother, Bryan, and his wife, Christan McMichael is also a member of the SCPS CUB Family-she is our famous art teacher. Mrs. Youngdale is married to Ross Youngdale of Americus. They have four children, Camille, Camie, Rylan, and Morgan. Mrs. Youngdale's hobbies include spending time with family and friends, shopping, and taking long walks. You will find her at every sporting event the children have: cheer, soccer, basketball, and softball. She is an active member of First United Methodist Church.
Sumter County is so happy to honor Mrs. Youngdale with this faculty award. Thank you for all you do for the children of Sumter County. Continue to instill the love of literacy in all of the children because you are their first Media Specialist.
"In conclusion, thank you for this opportunity to showcase just a few of our outstanding faculty, staff, and students," stated Dr. Mays.
Pictured Left to Right:
Superintendent Walter Knighton, Assistant Principal Jeffry Boges, Ms. Joanna Parker, Ms. Vickki Prigeon, Ms. Pamela Merritt Harvey, Ms. Sarah Slappey, Mrs. Jill Youngdale, Lucas Milotte's father - Mr. Brian Milotte , Principal Dr. Renee' Mays, Ms. Belinder Woodard, and Associate Superintendent Kimothy Hadley