Sumter County Schools District Staff Member Recognition Program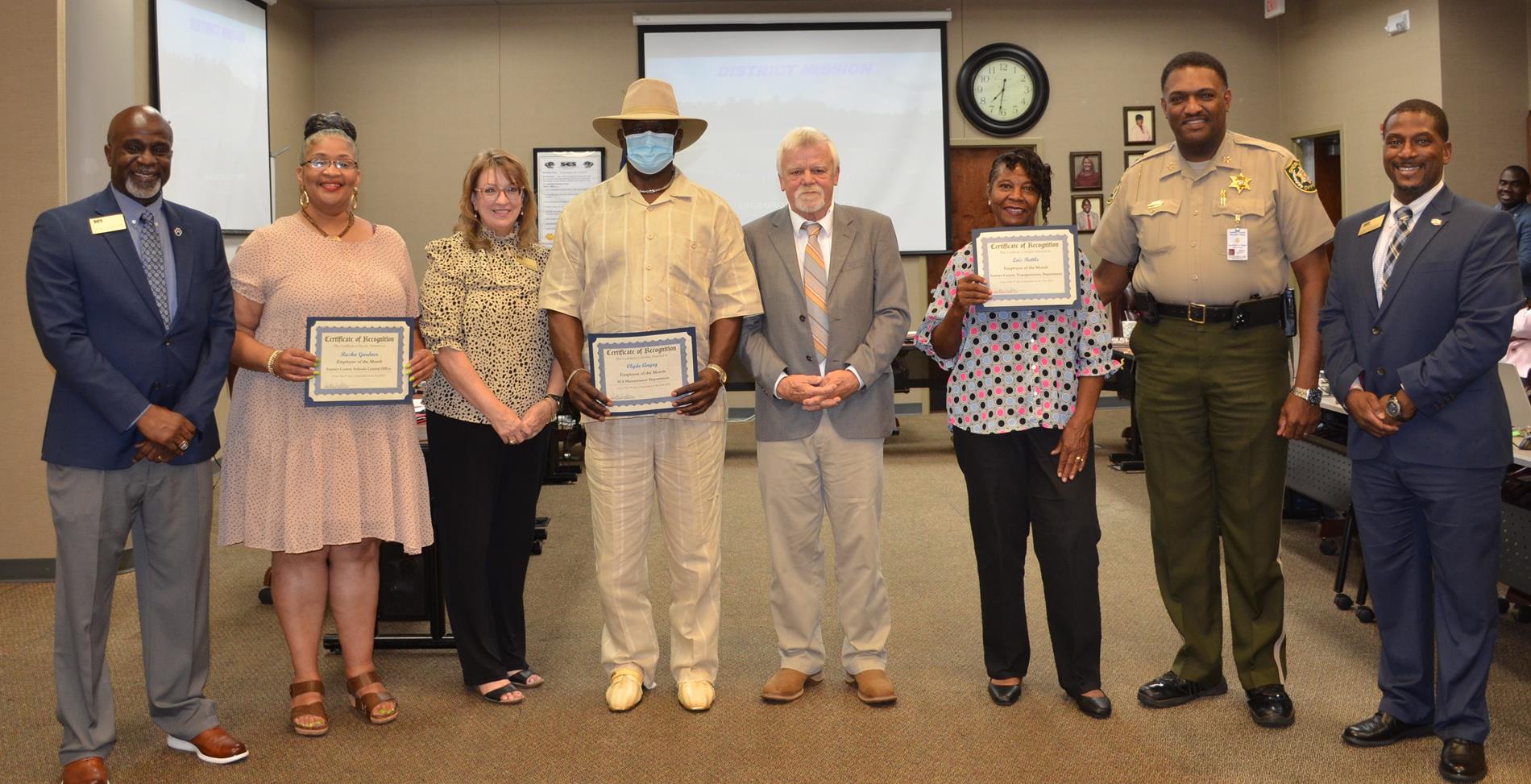 ---
Sumter County Schools District Staff Member Recognition Program
Sumter County Schools Superintendent Mr. Walter Knighton announced an additional recognition program during the September Board of Education Meeting. He stated, "one of the things we find ourselves working on this year is our vision and mission standards. Specifically looking at the standard that we are trying to nurture within our internal and external communities is to foster a culture of trust, collaboration and joint responsibility for teaching and learning across our district. Tonight, we will recognize the September District Office Staff Member, Transportation Staff Member and Maintenance Staff Member of the Month. One of the things that we wanted to do was not only to look at the excellence that is happening at our schools but also to recognize the staff at the district level who are exemplary and exemplify that excellence that we are trying to achieve."
Director of Human Resources Helen Ricketts introduced the District Office Staff Member of the Month, Ms. Rusha Gardner, Personnel Services Clerk. Ms. Gardner joined the Sumter County School System in January of 2013, where she began working in the office of Sumter County Middle School. She then transferred to the Human Resource department in July 2014. Ricketts stated, "it is my honor to speak on behalf of Ms. Rusha Gardner as the District Office Staff Member of the Month."
"Ms. Gardner loves Sumter County schools, our employees and our students," stated Ricketts. "She supports our athletics and all other extracurricular activities. She supports them in every way she can. If a group is selling T-shirts, BBQ plates, Boston Butts, or plants, if they are selling it, she is buying it. She arrives early and stays late, especially in July and August. Ms. Gardner is always willing to go above and beyond to prepare our new employees for the new school year. This year alone, she has onboarded over 80 new employees."
Ricketts continued, "As Personnel Services Clerk, she is often the first person our new employees meet. She is professional and friendly. Rusha can develop a rapport with new employees and calm any anxiety they may have. She can establish a relationship and make connections with nearly everyone she meets. If one ever watches Rusha meet someone, it is amazing. Ricketts said, "sometimes I will sit back and listen to her talk and ask them questions. Sometimes I wonder where is she going, but she will find out who their people are, where their people came from, and where they went to school. She will make a connection with them and then that relationship is formed. Many of these relationships extend beyond Sumter County Schools. They will call her after moving to a new system to ask her for advice or directions on how to do something at their new school. Her ability to develop this type of relationship with people is a true gift. Rusha, thank you for all you do for Sumter County Schools."
Billy Thompkins, Director of Maintenance, introduced Mr. Clyde Angry as the Maintenance Employee of the Month. Thompkins stated, "Mr. Angry began his career with the school system in 1997 at Cherokee Elementary School. He always has a pleasant, can-do attitude. He is always willing to go the extra mile. He wears many hats in the maintenance department. He works hard delivering cleaning supplies, COVID supplies, and educational supplies. He is willing to do whatever it takes and never complains. I am proud to have Mr. Angry in my department."
Next, Sherriff Eric Bryant introduced the Transportation Employee of the Month. Sherriff Bryant stated, "I feel privileged to have the opportunity to stand in place of Ms. Tracy Monts, Mrs. Derether Harris, Mr. Mark Harnage, fellow school bus drivers, monitors and mechanics. I stand here this evening as an honor to recognize my friend, coworker, and mom - as she identifies me as her son, Mrs. Lois Battle. Mrs. Battle has been driving a school bus since 1988, starting with Americus City School. Under the leadership of Ms. Monts, Ms. Battle has never complained. When a change comes about or an emergency arises, Ms. Battle's response is, 'Whatever I need to do, Ms. Battle is a true meaning of being a team player. She talked once about retiring; however, she and Mrs. Monts had an agreement that she could not retire until Mrs. Monts could retire. Mrs. Battle's response was, 'that might be too long.' She is a very loyal and dedicated employee of the Sumter County Schools' transportation department. On a personal note, Miss Battle has gone from the school bus door with the arm that extends out to the school bus with the push button door and air conditioning. I am proud to be able to stand here to recognize her tonight, not only for being a passenger on her bus but also for having the privilege of supervising Ms. Battle when I was transportation supervisor. Even today, we are still coworkers. We meet in the bus parking lot at the Sumter County Primary school every morning. This evening, I congratulate you for allowing me to recognize you."
Pictured left to right: Superintendent Walter Knighton, Rusha Gardner, Human Resource Director Helen Ricketts, Clyde Angry, Maintenance Director Billy Thompkins, Lois Battle, Sherriff Eric Bryant, and Associate Superintendent Kimothy Hadley