Sumter County Schools February 2022 Board Recognition Program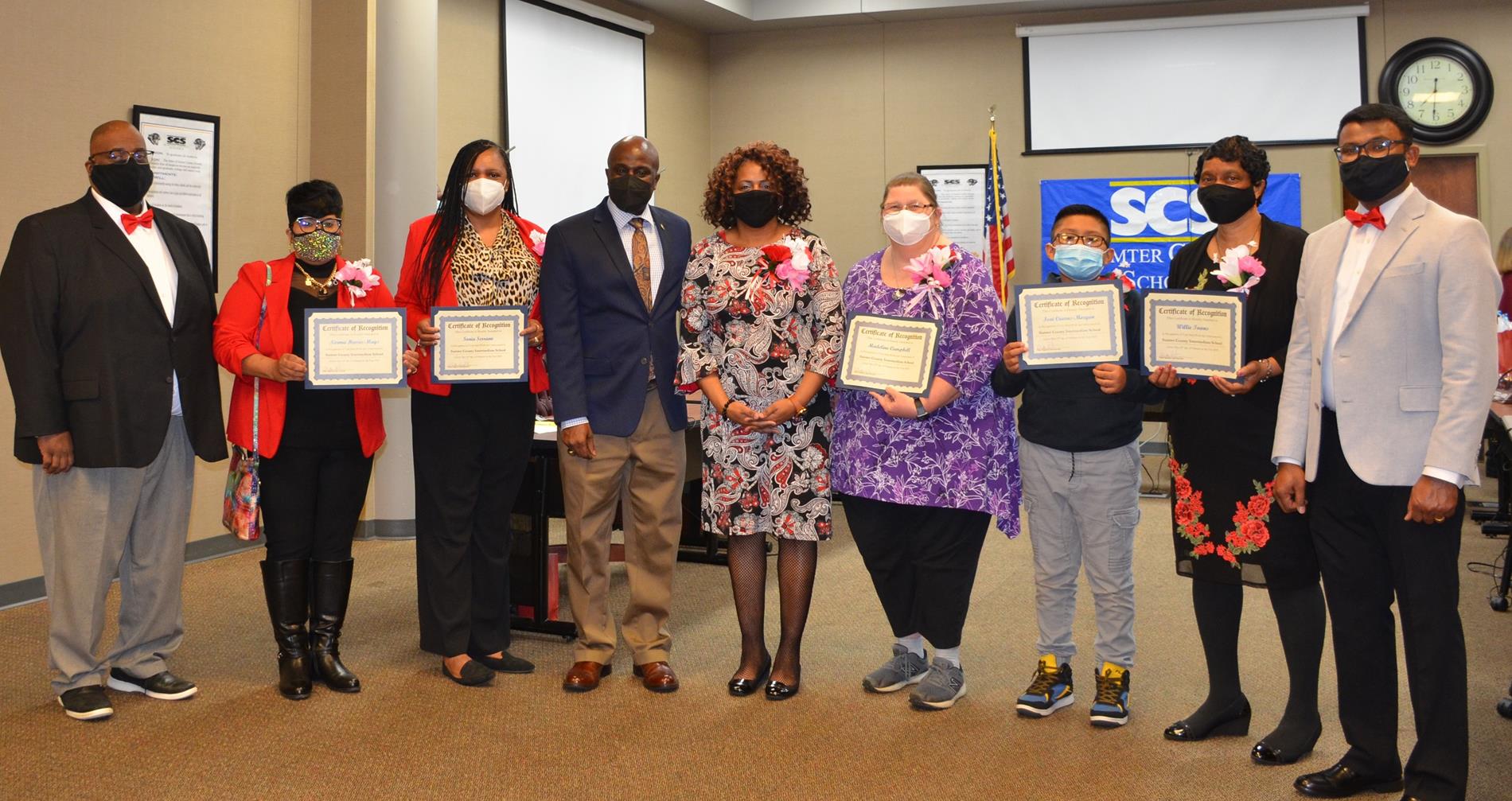 ---
Sumter County Schools February 2022 Board Recognition Program
Mr. Walter Knighton, Superintendent of Sumter County Schools, is proud to announce the February 2022 "Teachers and Parents in Support of Students" Board Recognition Program honorees from Sumter County Intermediate School. Dr. April Smith, principal chose to recognize the following: Mrs. Madeline Campbell, Teacher; Isai Cuevas-Morgan, Student; Mrs. Sonia Serrano, Staff; Mrs. Marquitta Bess, Cafeteria Staff; Mrs. Willie Ann Towns, Custodian; Mrs. Norma Harris Mays, Parent Volunteer. Following the recognition and photos, the board and audience were invited to congratulate those honored.
Mrs. Madeline Campbell – Teacher
Mrs. Madeline Campbell graduated from Robert E. Lee High School in Jacksonville, Florida. She serves as the Lead Special Education teacher for SCIS. She currently holds certification in Elementary Education, Special Education, Adaptive Curriculum, and Online Teaching Endorsement. Campbell's hobbies include singing in the choir at her church and completing arts and crafts projects. Her favorite hobby is face painting, which she volunteers to do at different events.
She has been married to her husband, Richard, for 23 years and counting. They have three children. Joshua (grade 11), Carolyn (grade 9) and Tracey (grade 7).
Her biggest accomplishment to date is that she is living her lifelong dream of teaching students who struggle just like she did when she was in school. She adds that if it had not been for some fabulous teachers who encouraged her to keep trying, she would not have been able to graduate. These teachers hold a very special place in her heart.
Campbell: "When I work with the students who come into my classroom it makes me feel that I have accomplished something great. I also enjoy my leadership position because it allows me to share what I know with other teachers in my school. I am very blessed with an amazing paraprofessional who helps me by teaching beside me. I absolutely love coming to work every day!"
Staff members at SCIS stated that Mrs. Campbell is very hardworking and goes above and beyond to help her team. Her leadership role at Sumter County Intermediate School is very inspiring.
Isai Cuevas-Morgan – Student
Isai Cuevas-Morgan is a sixth grader at SCIS. He is the son of Julia Deleon-Morgan and Miguel Cuevas-Jimenez. Isai enjoys riding his bike, drawing and listening to music. His goals are to graduate high school and attend college in pursuit of becoming an artist.
Isai epitomizes the SCIS "ROAR" initiative. He is Respectful of teachers and peers alike. His constant Obedience to curriculum and instructions is unparalleled. He allows his own Aspirations of responsibility to be an inspiration to others. His Responsiveness to all expectations of ROAR is evident in his accomplishments. Isai is an A/B honor roll student and a Junior Beta Club member.
A big ROAR of Congratulations to Isai Cuevas-Morgan.
Mrs. Sonia Serrano - Staff
Mrs. Sonia Serrano received her high school education and diploma from Sumter County Comprehensive High School. She earned an Associate's Degree in Accounting from South Georgia Technical College. Serrano is married to Gene Serrano and they have a son Michael and a daughter Genyria.
Mrs. Serrano enjoys "Do-It-Yourself" projects, decorating small spaces, traveling and gardening. Some of her best skills include problem-solving, being innovative with new ideas on improving processes and procedures to help the office at SCIS run smoothly.
One thing that Mrs. Serrano likes about her job at SCIS is the versatility of being able to do a variety of different tasks. She appreciates the forward-thinking, supportive leaders at SCIS and that they recognize the front office staff as one of the school's greatest assets.
Mrs. Marquitta Bess - Cafeteria Staff
Mrs. Marquitta Bess attended Americus High School. She has been married to Ansley Bess for 14 years and they have a 4-year-old daughter named Ansleyiah.
She enjoys being the best wife, mother, and co-worker and expressed that it is truly a blessing to be chosen for this honor. Her hobbies are worshiping God, spending time with her family, and shopping. She also enjoys serving and seeing the students at SCIS each day.
Mrs. Willie Ann Towns - Custodian
Mrs. Willie Ann Towns is from Andersonville and attended Union High School in Leslie. She has one son, a daughter-in-law, and three grandchildren. She has worked in the Sumter County School District for 19 and a half years. Her hobbies include dancing and listening to "OLDIES GOLDIES MUSIC".
Mrs. Towns enjoys working with students and helping them be productive in school. Co-workers describe her to be hardworking and dedicated. She keeps her area clean at all times with high standards.
Mrs. Norma Harris Mays - Parent Volunteer
Mrs. Norma Harris Mays is the mother of four adult children and five highly intelligent grandchildren in the Sumter County School System. One of her grandchildren, Chandler Jones, is a 5th grade honor student at Sumter County Intermediate School. It gives her great joy and pleasure to volunteer in the schools and engage in her grandchildren's education.
As principal, I remember starting my first year at SCIS, near the beginning of the pandemic and not having enough funds to provide a staff appreciation meal. Mrs. Norma Mays questioned, "What is it that you need?" My response was, "I would be appreciative of a simple breakfast or lunch." This QUEEN brought an entire buffet, not once but twice. Breakfast on one occasion and lunch on another.
SCIS honors Mrs. Norma Mays for being a "CHEERFUL GIVER" and supporting not only SCIS but other schools in the Sumter County School District.
Pictured left to right:
Mr. Rodney Shelton, SCIS Assistant Principal; Mrs. Norma Harris Mays - Parent Volunteer; Mrs. Sonia Serrano – Staff; Mr. Walter Knighton, SCS Superintendent; Dr. April Smith, SCIS Principal; Mrs. Madeline Campbell – Teacher; Isai Cuevas-Morgan – Student; Mrs. Willie Ann Towns – Custodian; Mr. Mohan Gugulothu, SCIS Assistant Principal