Sumter County Nutrition Department Receives Fresh Fruit and Vegetable Grant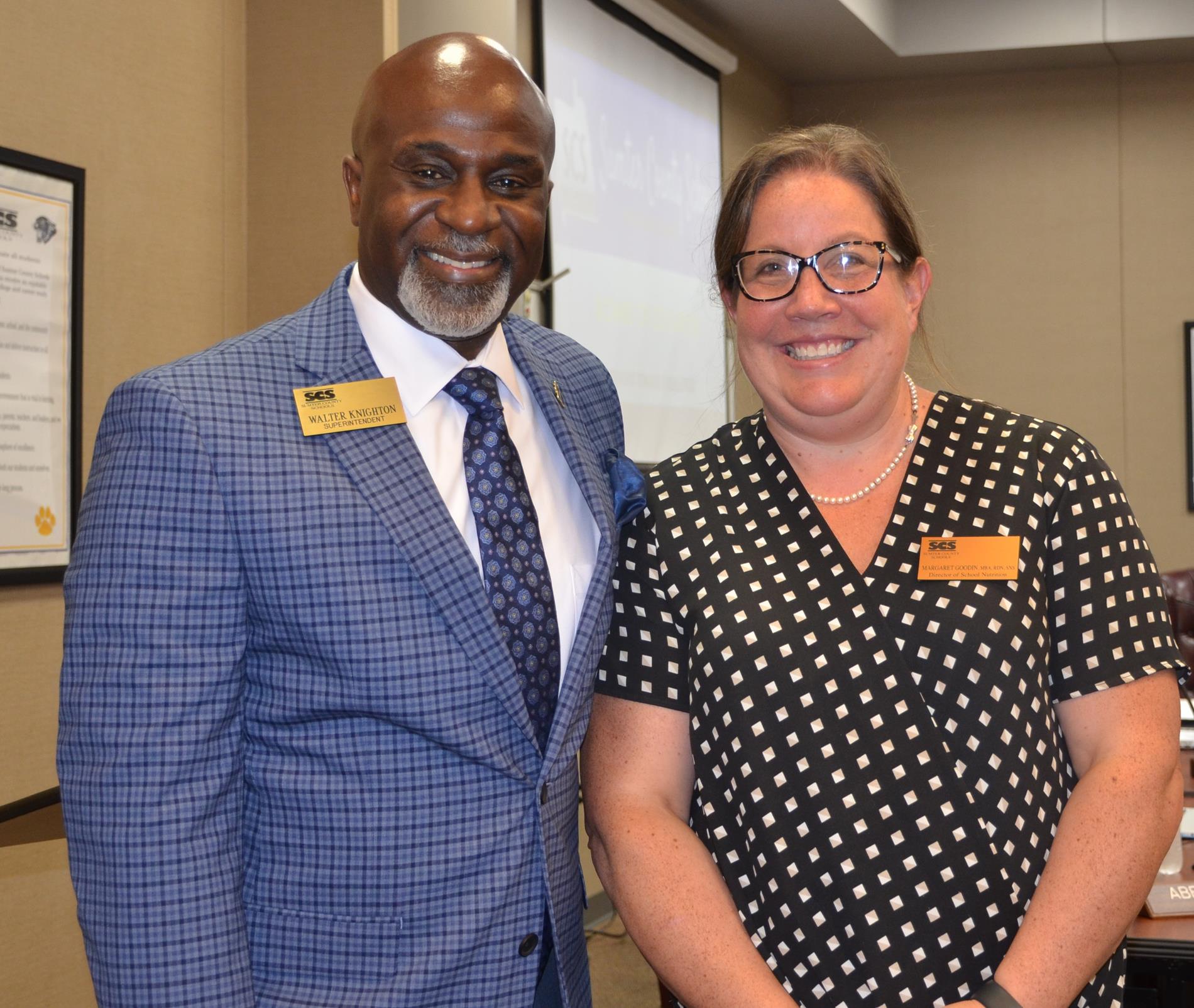 ---
Sumter County Nutrition Department Receives Fresh Fruit and Vegetable Grant
Superintendent Walter Knighton is pleased to announce that the Sumter County School Nutrition Department has received the Fresh Fruit and Vegetable Program (FFVP), an annually recurring federal grant offered by the United States Department of Agriculture. This grant is designed for elementary schools that participate in the National School Lunch Program, with priority given to schools with a high percentage of students who are eligible for free or reduced-price meals.
Knighton stated, "Our school system was awarded a total of $133,309 for the Fresh Fruit and Vegetable grant. The Primary school received $47,152, the Elementary school $31,858 and the Intermediate School $54,299. Thank you, Mrs. Goodin, for all the hard work that you have done for our nutrition department, and congratulations.
Mrs. Margaret Goodin, Director of School Nutrition, addressing the board members noted, "this is a program that is granted annually, where we offer a variety of fresh fruits and vegetables to our students, enabling them to experience and eat a healthy snack. The students are served a snack in the afternoons, with hopes of increasing our students' fruit and vegetable consumption."
A fresh fruit or vegetable is served as a snack outside of the regular school meals and is provided to all students enrolled in the schools awarded the grant. A wide variety of fresh fruits and vegetables is served, enabling students to experience new and different healthy snacks.
Impact of the grant:
Since the program's inception in FY2009, Georgia has received over $60 million in FFVP funds.
In SY23, the Georgia Department of Education received over $6 million in FFVP funds.

Goals of the FFVP:
Expand the variety of fresh fruits and fresh vegetables that students experience
Increase consumption of fresh fruits and vegetables
Impact students' present and future health

Pictured: Superintendent Walter Knighton and Director of School Nutrition Mrs. Margaret Goodin